I am packed! Enpurpled! and ready to Rock!
ShiMMer here I come. My bags are packed, my hair is purple, and my Paris swag wouldn't find in my hand luggage so it is in a box and on its way without me. Fingers crossed it arrives without issue.
The pictures will start on Thursday! There may be kitties and/or a hamster, but I can promise nothing.
I am delighted to announce that I am Featured Author of the Month at PRG! So in your face anyone who ever said I'd not make anything of myself (my actual history teacher in school, in case you were wondering. We weren't even IN SCHOOL which made it seem particularly harsh. But enough of my lingering emotional trauma.)
Go check out me out on PRG to find out more stuff about me! I know you've been dying to, I'm such a reserved soul! A closed book really. *angelic smile*
Prodigal by TA Moore was launched last week. I am really proud of this book and I hope everyone else enjoys it. You can catch up with the blog tour here, for the full 'Feet of Clay' short story prequel.
Check out the book on Dreamspinner!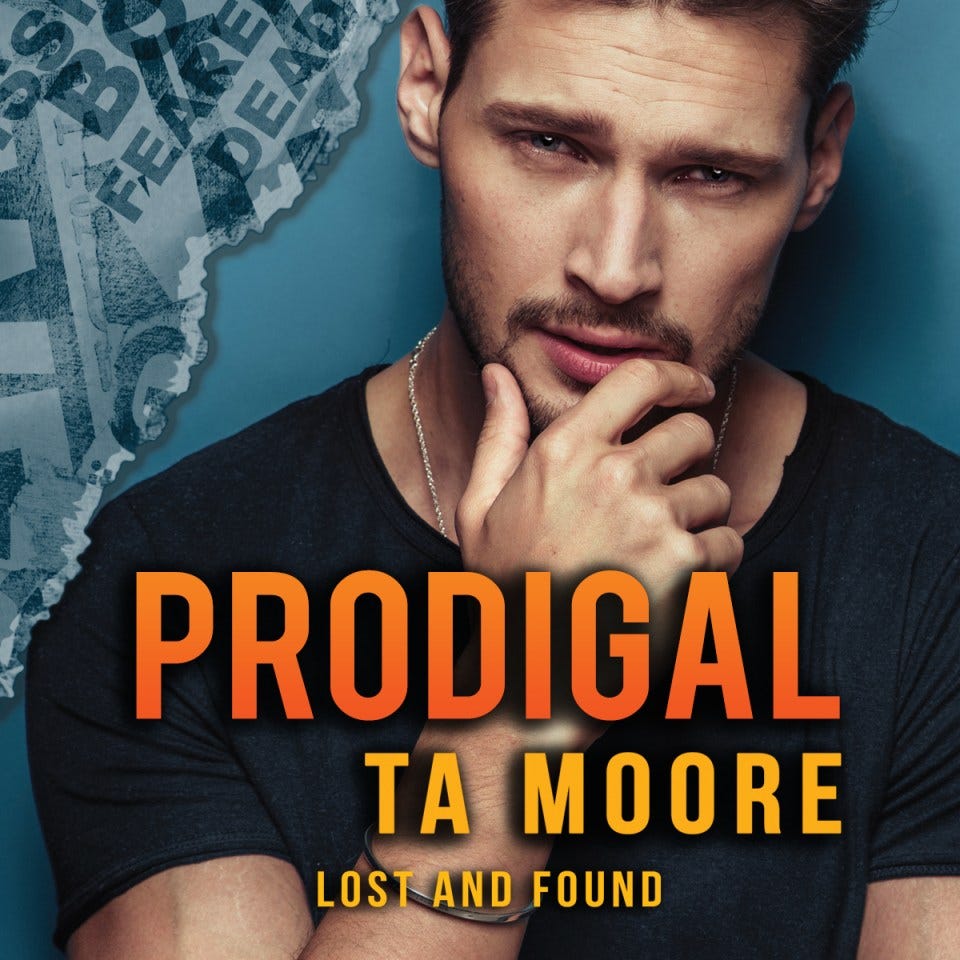 And jeez. Can you believe it's only roughly a month until Paris? Going to have an excessive amount of fun! There will be pictures. No pets. Just the nicest of authors :D.
---
Check out Angel Martinez' Friday Reading from last week. It's an exerpt for the one and only Poe's upcoming steampunk western The Engineer.
---
---
Upcoming Deal of the Week
Skin and Bone by TA Moore, the second book in the Bone to Pick series is a Bookbub Featured Deal in Feb! It will be 99-cents at all retailers from Feb 18-26. So check it out from tomorrow!
---
I love Ryan Reynolds. He just seems to enjoy being rich and famous so much. Which is just how I'd hope being rich and famous would be like.
---
Recommendation of the Week
Not a romance this week, but The Third Policeman by Flann O'Brien is one of my favourite books. I am rereading at the moment, and just wanted to share it with you. It's weird, bizarre, and very Irish. Plus Flann O'Brien was a legend, and more people should read him.
A masterpiece of black humour from the renown comic and acclaimed author of 'At Swim-Two-Birds' – Flann O'Brien.

A thriller, a hilarious comic satire about an archetypal village police force, a surrealistic vision of eternity, the story of a tender, brief, unrequited love affair between a man and his bicycle, and a chilling fable of unending guilt, 'The Third Policeman' is comparable only to 'Alice in Wonderland' as an allegory of the absurd.

Distinguished by endless comic invention and its delicate balancing of logic and fantasy, 'The Third Policeman' is unique in the English language.
---
Apparently I missed this when it first came out! The Good Place visits the Bad Place to catch up with Shaun and his nightmare team as they put together their team to scupper Team Cockroach's plans.
---
I know. I know. I've shared stories about AirBnB before. Still! It's fascinating how something that is so new has had such an impact. The AirBnB economy has reshuffled whole cities, turned people with homes into itinerants as they bounce around their own cities so visitors can crash on their bed. Never mind the horror stories of people being killed, voyeurism, that one time I was told the AirBnB 'wasn't for you' and asked to leave because I complained the hot water didn't work.
The curious tale of a man called Christian, the Catholic church, David Schwimmer's wife, a secret hotel and an Airbnb scam running riot on the streets of London
It's November 2019 and I'm standing in an Airbnb in Battersea, south London. But this is not the Airbnb I booked. Everything is slightly, confusingly, off. All the rooms are the wrong sizes, all the furniture in the wrong places. There are hints everywhere that something is up: the apartment block, a barely finished newbuild sandwiched between Battersea Park station and a Catholic church, is teeming with cleaning staff. There are cleaners in the hallways, cleaners lobbing bin bags of rubbish out of the front door, cleaners grabbing armfuls of bed linen in the elevator. It's like a hotel – except there's no front desk, and the allegedly clean duvet on my bed has a human-sized, yellow sweat stain running down its centre.
---
Neural nets are not great at writing recipes. 'Remove all internal rinds' is somehow a very ominous statement.