State of the TAM-7 Oct
How is it time for GRL already?
What's Up
Next week is GRL. Can you believe it? Rhys and I will be leaving on Friday on the Left Turn at Albuquerque Road Trip. The swag is all sorted and packed up. Probably? Mostly? Unless I forgot some. We also have a stack of dried fruit, crisps, and sweets for the car - including a bag of salt and vinegar almonds that will probably bring joy to nobody but me.
If you are looking for me at GRL I'll be the loud Northern Irish woman in black bouncing around the hotel powered on excitement and coffee. If you want to definitely pin me down though, here's my GRL schedule.
And here's some of the swag I'll have available!
The buttons and cards (I have more, but they are at the bottom of the box!) will be at my table during the lounges and signings. The charms will be available during the Featured Author Signing as part of a Charm Scavenger hunt. First you find Ari McKay for your bracelet, and then hunt down the various authors mentioned below to get a charm. Mine are PARTICULARLY sparkly!
---
Happy Birthday to Rhys Ford! *hugs* Have a great birthday!
---
Book Rec of the Week
I haven't read this one, but come on! Demons, gods, contracts, and crossroad deals. I've been missing Crowley and Lucifer from Supernatural, so….I'm in!
To save his soul, he'll have to fix his one regret—the love that got away.

The summer between the end of school and the start of what came next was full of sun, surf, and sex. For Will McLeod, that meant Tom, his first male lover. He knew the romance had an expiration date and would end when Tom joined the Army, but that didn't stop Will from falling in love.

Tired of being looked down upon for being poor, Will became a lawyer—but not just any lawyer. He litigates for the gods as they gamble with the lives of those desperate enough to make deals. His job is to make sure they don't slip free. He has more money than he knows what to do with, but he's fast running out of soul.

Twenty-five years haven't dimmed the candle Will holds for Tom, and when they meet again, he has a chance to put things right. Back then, Tom wasn't ready to fight for them. Now the decorated soldier is willing to get his hands dirty, but will he be a match for the forces trying to keep them apart?

Cover Artist: Tiferet Design
---
I love Mark Pellegrino. Politically, we do not agree. I have still watched EVERYTHING he's been in, even the weird one where his character got a bit weird with his brother's car.
So I am bouncing since I'm pretty sure we're going to get him back as Lucifer next (this) season when they get outta the Empty.
---
Deal of the Week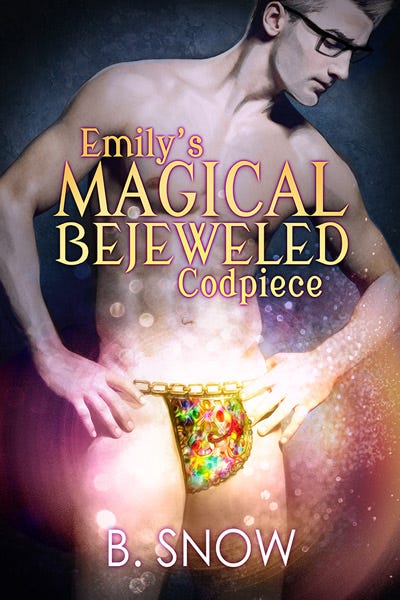 Tom, museum curator and expert in Renaissance jewelry, doesn't think his boyfriend Peter is "The One." Peter is perfectly happy with Tom, but Tom is obsessed with the artist Benedetto Emilio Nesci—exciting, passionate, extraordinarily talented… and dead for over 400 years.

Tasked with researching a bejeweled codpiece, Tom abandons his professional ethics—and his sanity—to try on the codpiece and is transported halfway around the world and back in time, right into Florence, Italy and Nesci's workroom.

After his initial panic subsides, Tom seizes the opportunity to allow Nesci to seduce him, but Tom discovers not everything about the sixteenth century is as romantic as he'd imagined. Getting back to the modern world and Peter becomes Tom's only wish, but desire and reality are two completely different things, and Tom might not get what he wants this time around.
---
---
Must Read of the Week
I always find stories about the evolution of language fascinating. The ability to speak is something that is so vital to how we think about ourselves and the stories that we tell.
Some languages are spoken more quickly than others, but the rate of information they get across is the same.
In the early 1960s, a doctoral student at Cornell University wanted to figure out whether there was any truth behind the "cultural stereotype" that certain foreigners speak faster than Americans. He recorded 12 of his fellow students—six Japanese speakers and six American English speakers—monologuing about life on campus, analyzed one minute of each man's speech, and found that the two groups produced sounds at roughly the same speed. He and a co-author concluded that "the hearer judges the speech rate of a foreign language in terms of his linguistic background," and that humans the world over were all likely to be more or less equally fast talkers.
---
---
Useless Site of the Week
Click to Remove is absolutely pointless, and rather awesome.
---
C.S. Poe will also be at GRL-snitching on people probably!
cspoe
---
Poetry of the Week
Outside of an LGBTQ-specific context I cannot remember ever hearing a poem about gay sex at a poetry event at home in Northern Ireland, and so when I arrive at the Irish Writers Centre for their regular open mic night, Takin' The Mic, I have to be honest, I am not expecting the evening to kick off with a poem about sex at a gay sauna. Mark Ward, who has recently been highly commended in this year's Patrick Kavanagh award, introduces the evening and then reads us his Turkish bath poem.