Are you all Back In Black?
What's Up?
Quick intro note! My friend Rhys Ford is…BACK IN BLACK! Well, to be fair she was always in black, but this time she's brought back the much-loved, slightly older Cole McGinnis in a whole new series. Check it out below my ramblings :D
Question? Do you think that January is the most murdery time of the TV year because we've used up so much good will over the festive season? I mean, I'm in with the murders - I mean, it's me! - I just wonder what the reasoning is.

So I finished my blog tour for Prodigal over the weekend and sent it off to the bloggers. It's a short story set in Cutter's Gap after Sammy Calloway's disappearance shattered the town but before the start of Prodigal. In 'Feet of Clay' get to spend a wee bit of time with Joe 'Mac' MacKenzie, who's a secondary character in Prodigal but who'll find out more about in next two books in the trilogy.
You can follow the tour in February at the following stops to read 'Feet of Clay', find out more about the book, and enter for a chance to win prizes!
Oh and just in case you want to keep an eye on it, I'm doing a VERY UNOFFICIAL! DON'T PRESSURE ME! short story on my website that I'll be hopefully adding to over upcoming weekends (not this weekend, because I was sorting out the blog tour :D). 'Roll with It' by TA Moore is a story that stands as a testament to my stubborness and refusal to listen to reason, the love between a seafood restauranteur and a lobster shifter.
---
I ABSOLUTELY would!
---
Book Recommendation of the Week
Spread the word... The Boys Are Back In Town....
Back in Black by Rhys Ford is available for pre-order. Do I have to say more? OK, just a little! Back in Black was announced at GRL last year and I was in the audience when Greg Trembley did a reading that brought the house down. So…check it out. I think it will be worth your while !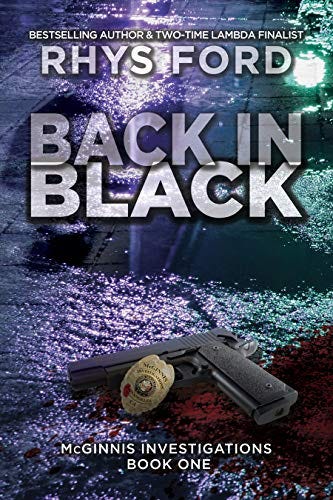 McGinnis Investigations: Book One

There are eight million stories in the City of Angels but only one man can stumble upon the body of a former client while being chased by a pair of Dobermans and a deranged psycho dressed as a sheep.

That man is Cole McGinnis.

Since his last life-threatening case years ago, McGinnis has married the love of his life, Jae-Min Kim, consulted for the LAPD, and investigated cases as a private detective for hire. Yet nothing could have prepared him for the shocking discovery of a dead, grandmotherly woman at his feet and the cascade of murders that follows, even if he should have been used to it by now.

Now he's back in the dark world of murder and intrigue where every bullet appears to have his name on it and every answer he digs up seems to only create more questions. Hired by the dead woman's husband, McGinnis has to figure out who is behind the crime spree. As if the twisted case of a murdered grandmother isn't complicated enough, Death is knocking on his door, and each time it opens, Death is wearing a new face, leaving McGinnis to wonder who he can actually trust.
You can also follow the Back in Black blog tour to not only see Cole and Jae finally tie the knot, but hear about it too. Greg Trembley, who narrated the Dirty series, narrates each section. There are also some prizes to be won!
---
2020 has been the year of insomnia—it happens, my brain can be a real tit about sleep sometimes—and I have been filling the nights with a Leverage rewatch on Amazon. I can take or leave Nate and Sophie, but I love Parker, Hardison, and Elliot. It evens out.
---
Must Read of the Week
This article is SO COOL! It's about the birth of the infographic, which can be traced back to Emma Willard's Maps of Time. I have to admit that I never thought about where infographics came from, isn't it neat?
Emma Willard's Maps of Time

In the 21st-century, infographics are everywhere. In the classroom, in the newspaper, in government reports, these concise visual representations of complicated information have changed the way we imagine our world. Susan Schulten explores the pioneering work of Emma Willard (1787–1870), a leading feminist educator whose innovative maps of time laid the groundwork for the charts and graphics of today.
---
Do I ship Jaskier and Geralt on The Witcher? Maaaaybe.
---
I love this! The longer you look at the cafe, the creepier details you pick up. Is the POV character a writer whose imagination has run amok as she works in a cafe? It happens! Or has a writer found the perfect cafe to draw inspiration from the unwitting monstrous customers.