What's Up?
Wolf at the Door by TA Moore is my new novel, out in October. I have an AMAZING cover by the very talented L.C Chase who puts up with my hemming and hawing about EVERYTHING. So, check it out!
*Drumroll please!*
Cover Reveal
Wolf at the Door is also available for pre-order….*checks watch*….now!
Home.

For Jack and Gregor, the exiled Wolf Princes of the Scottish pack, it's someplace they never wanted to leave. For Danny, who fled as soon as he could, it's someplace he never planned to return. As for Nick, pathologist and carrion bird, he has nowhere else to be.

It offers only one thing—the Old Man's help in putting down the bloody-handed treachery from the prophets who dogged them all the way from Durham. The twins' father is many things, not all of them kind, but not even the prophets would cross him.

But when they finally arrive home, they find the Old Man gone and the prophets' puppet installed in his place. Outnumbered, bereaved, and haunted by old mistakes, the four of them must discover the prophet Rose's plan before it's too late. As the stakes rise and the cold settles into their bones, they find that the old fairy tales hide horrors under their pretty words.

In the Highlands, Fenrir has stirred, and he's hungry.

The prophets have always said that a Wolf Winter is red as blood—but they never said whose.
You can also check out my blog post on Love Bytes. It's basically about my OBSESSION with advice columns. I stand by it though. A basic agony aunt letter encapsulates ALL the skills an author should pursue, and the compressed format means you can see what the author gets right and wrong in their approach.
(I DO always assume that every letter is true. It's a: more fun than endless picking at the edges and b: polite to the author. However, non-fiction requires craft too)
Finally, I have purpled the hair! Even though I'm not going ANYWHERE this year. I do feel better without the frizzy ombre do :D
Summer hair, don't care. Actually, care very much! Stupid, since I am not going anywhere, but I do feel better purple :)
---
Pupdate
Look at Jax taking a pool break on a hot date :D Ignore my stupid puppy-talk voice :D
---
---
Recommendation of the Week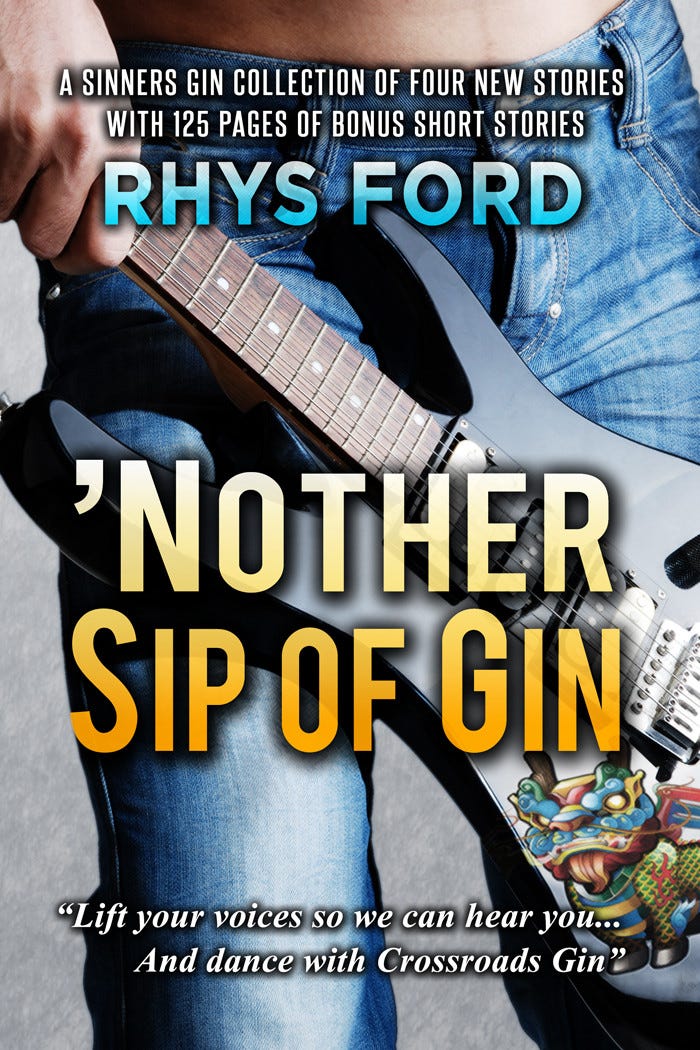 A Sinners Gin Anthology
For Crossroads Gin rock stars Miki, Damien, Rafe, and Forest, life is a Möbius strip of music, mayhem, and murder. Through it all, the sweet, hot moments between tours with lovers, friends, and family keep them sane, healthy, and happy. This Sinners collection features short stories spanning the entire series, from before the first note to after the lights go out.
---
Oh, this is so cool.
---
Must Read of the Week
I would LOVE to do this. The idea of road trips are appealing on their own, but there's something unique about train travel. I think it is the lack of control. You are at someone else's mercy, on their timetable, stopping at their stops.
Of course, I once got on the wrong train in London and only realised I was about to go to Cornwall at the last minute. So it might not be WISE. Fun though.
Tell your fellow americans that you plan to cross the United States by train, and their reactions will range from amusement at your spellbinding eccentricity to naked horror that they, through some fatal social miscalculation, have become acquainted with a person who would plan to cross the United States by train. Depending how you slice it — time or money — there are either 61 or 960 immediate reasons not to travel by Amtrak trains from New York City to Los Angeles. Those are the extra hours and dollars, respectively, that you might reasonably expect to forfeit if you forgo a six-hour $129 nonstop flight and opt instead for an Amtrak sleeper car. Covering the interjacent 2,448.8 miles can easily consume some 67 hours for a mind-boggling $1,089.
---
This is very true! You can tell who owns the first type of dogs at dog parks by who flinches when their dog passes a puddle.
…I'm a flincher.
---
Deal of the Week
Get 55% off all Dirk Greyson eBooks at Dreamspinner Press! The offer ends 11:59PM ET August 13, 2020.
Playing with Fire is only $3.15 for an eBook!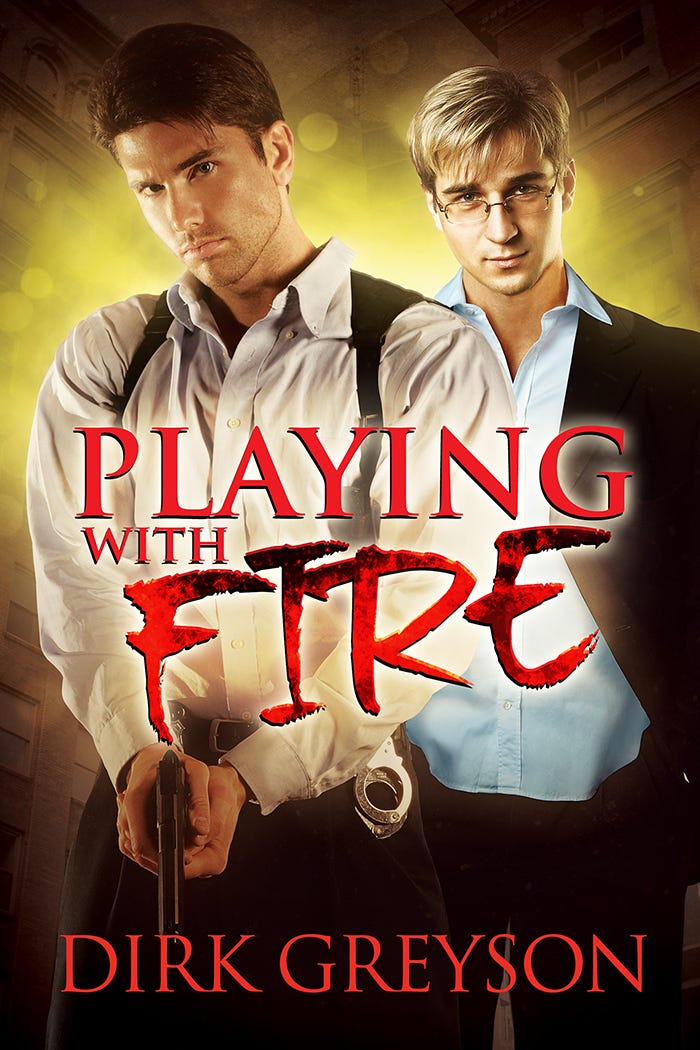 Jim Crawford was born wealthy, but he turned his back on it to become a police officer. Add that to his being gay, and he's definitely the black sheep of the family.

Dr. Barty Halloran grew up with lessons instead of friends and toys and as a result, became a gifted psychologist… with only an academic understanding of people and emotions.

When Jim's pursuit of a serial killer goes nowhere, he turns to Dr. Halloran for help, and Barty thinks he can get inside the shooter's mind. In many ways, they're two sides of the same coin, which both scares and intrigues him. Together, Jim and Barty make progress on the case—until the stakes shoot higher when the killer turns his attention toward Barty.

To protect Barty, Jim offers to let Barty stay with him, where he discovers the doctor has a heart to go along with his brilliant mind after all. But as they close in on their suspect, the killer becomes desperate, and he'll do anything to elude capture—even threaten those closest to Jim.
---
Check out this news about a TTRPG based in Jordan L. Hawk's world! How cool is that?!