State of the TAM - 15 Sept
I'm in Fermanagh
What's Up?
It is a truncated, but hopefully still entertaining, newsletter tonight. I am taking a socially distanced mini-break in Fermanagh. So a: I'm freaking knackered! and b: the internet is significantly less good tonight than yesterday since a whole bunch of other people arrived.
ANYHOO! I am in a dog friendly and very nice cottage in Fermanagh. Jax has been very good about everything, but did get woken up by a fox about 1am last night. He then spent the next few hours roaming the house looking for the fox, peering out windows, singing a fox-hating serenade with the wee dog in the other cottage.
It has been a good few days for a little pupper. He has been to three - THREE -castles, walked along Lough Erne, got into Lough Erne for a paddle, and impressed everyone he met. He also ate some sheep poop today, so that's going to be fun in about an hour!
I've been a bit more nervous, despite my wipes, face masks, and stick to poke people with (joking!). It's been fine though. Fermanagh is a good place to go to not be too close to anyone.
Pics below!
---
Pupdate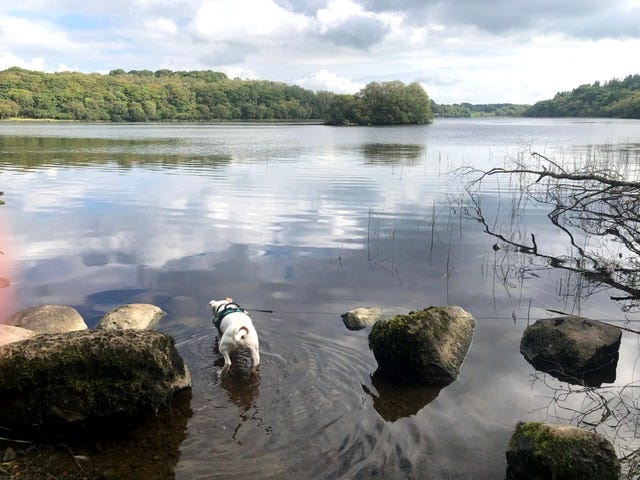 ---
Recommendation of the Week
Well, I think it is going to be good! Check out the Bad, Dad, and Dangerous anthology, containing stories from Bru Baker, Jenn Moffatt, Rhys Ford, and some weirdo TA Moore :D
---
Deal of the Day
You can still get Mischief Maker by Andi Lee on sale. IF you hurry that is. Go and check it out, it's a fun, warm-hearted, Black Country read. Get your sticky dondies on one today! (That's authentic Black Country that is :D)
---
Must Read of the Week
I have voted in every election in Northern Ireland since I was eligible to vote. Sick, bored, hungover, or lazy, it didn't matter. Up you got and to the voting station you went. In the current political climate it is more important to vote, and vote safely, than ever.
---