A quick aside…
It is weird to send this the Monday after such a terrible weekend. I don't often comment on here, as TA Moore, about events as they happen, it often feels disingenuous to do so on a platform I use to market myself and my books. At the same time it also feels insincere to just ignore the events of the weekend.
I can only condemn the shooters, and also the propaganda and tainted, racist, nationalism that helped to shape and direct these violent men. I'm not American and I don't understand the attachment to guns, but I think it's obvious at this point that something needs to be done to stop things like assault rifles being so easily available? I hope it's obvious. I hope something is done soon to make places safer for people.
The rest of this was written on Friday, so please forgive the abrupt tonal shift.
---
What's Up?
Ooof, what a week! My friend Penn and her husband are coming to stay for just over a week. So I spent the weekend clearing out space in the wardrobe so they would have somewhere to put their clothes! Then I stashed everything in the garage, because I was too knackered to sort them out.
So going to drag her hither and thon around Northern Ireland next week. Going to start with the Seafood Festival in Portavogie on Saturday!
I'll let you know how it goes!
Not much writing news this week! I am writing, and also working on the next book on my list. There's news that I'll be able to fill you all in on soon, that I am very excited about.
My next book Dead Man Stalking is out soon! 10 September. I love Kanaxa's cover on this! It's beautiful. Vampires are one of my first literary loves—I had such a fight with my English teacher when she said that Dracula wasn't classic literature—and I really enjoyed writing this books. Other people seem to like it too!
I will announce my blog tour next week!
Speaking of blog tours! Andi Lee's blog tour for her debut novel Mischief Maker will be starting soon! You can still preorder a copy, and the novel will be released on 12 August.
LIAM BARELY remembered a time when his vlog wasn't the most important thing in his life. As friends settled down into nine-to-five jobs and found partners, his life became less ordinary—just the way he liked it. If he ever felt a twinge of dissatisfaction, he would check how many new subscribers he had and scroll through his comments. His life was fun.

He used his phone camera to check his appearance. His hair was too perfect, so he ruffled it with one hand until it fell into his eyes. When he deemed it tousled enough, he nodded, switched over to video mode, and pressed play.

"Two words," he said in the conspiring tone he used to draw his viewers in and create intimacy. "Escape Room."

His vlogging camera was a Panasonic Lumix, but when he was out and about, he liked the effect he got when he edited the lower spec on his phone into footage from the Lumix. It gave it a fake-reporter vibe.
---
There are some sins that cannot be taken back. THIS is one of them.
If anyone hates their pancreas enough to give this a go, though, I do have a recipe. Let me know how that works out!
---
These are just insane. I theoretically understand how colour and shadow was used to create this effect, but my brain refuses to see anything but texture and thickness. I would be so tempted by one of these.
Book Rec of the Week
Tattoos and crossed wires are always a good way to draw me into a book! This contemporary by Anna Martin promises both and definitely delivers. Andi Lee, who I mentioned above, is also very fond of a Martin book.
So there you go, two votes for give it a look!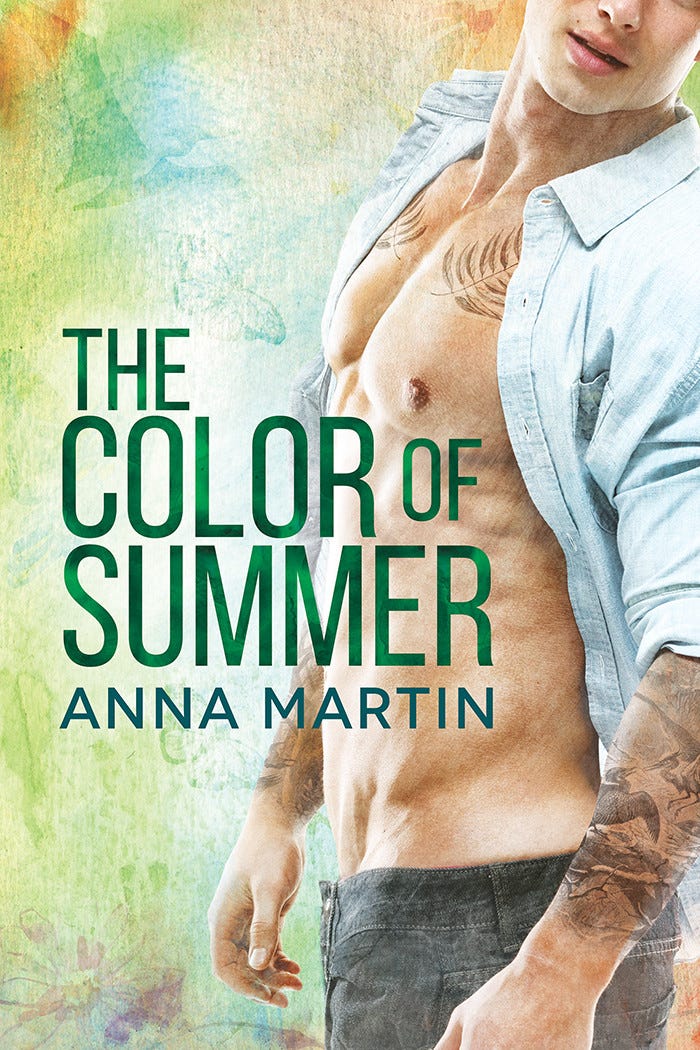 Tattoo artist Max Marshall races into his hometown of Sweetwater, West Virginia—and is promptly pulled over for speeding. Max's luck isn't all bad, though, because he recognizes the deputy, Tyler Reed, Max's childhood best friend's older brother.

Reconnecting with Tyler helps Max settle back in, and it also leads to attraction. But when he tries to explore that connection at the grand opening of his tattoo studio—by kissing Tyler—awkwardness ensues. Max wants more, but has he misread Tyler's signals?

As a single father raising a six-year-old daughter, Tyler doesn't have much time to date. He's ignored his attraction to men for years, but he can't stop thinking about the kiss he shared with Max. If he can handle the complications of dating in a small town and the possible consequences to his career, this romance could blossom with all the colors of summer.
---
Awww, look at the little grumpy faces!
---
Must Read of the Week
The politics of being a tough guy are pretty complicated. I am fascinated by this Wall Street Journal article about how the stars of action movies carefully curate their image on screen. It sounds counter-intuitive, they want to look so tough so they bean-count headbutts like book-keepers. When you look at them, though, it makes sense. These guys aren't actors, they're action stars. Sometimes they step out of that lane, but even if they veer into comedy or SF they remain the tough guys of Hollywood. That brand is their bread and butter, so they are left with this dichotomy to resolve between the fact they need to get beat up in movies and the need to still look tough doing it.
Plus, Statham kind of painted himself into this corner of doing his own stunts and that has got to sting sometimes.
The actor was in rehearsal for yet another fight in his seventh "Fast & Furious" movie when he started to sense his co-star and on-screen opponent, Jason Statham, was landing more blows than he was.

Mr. Diesel had an idea: Why not assign numerical values to every move—head butt, roundhouse kick, body slam—so he could calculate a total and determine if the two men were getting pummeled evenly?

In Hollywood, where sheltering the tender egos of action stars is increasingly a cost of doing business, no leading man is willing to look less macho than any other. Nowhere is that more apparent than the "Fast & Furious" franchise, where an arms race of machismo can break out between Mr. Diesel, Mr. Statham and their third beefy co-star, Dwayne Johnson.
---
There is something haunted about seaside towns. Visit one in the winter and you'll see what I mean. Towns haunted by the sultry summer months when the tourists pack the streets.
---
Useless Site of the Week
Does the red-amber-green scaling of password strength not work for you? Well check out the Passive Aggressive Password machine! It condescends to you as you try and find that sweet spot between memorable enough to remember and complicated enough to put off the Russians.
---
Poetry of the Week
Check out Lagan Online's collection of poetry from Northern Irish poets. It's from 2017, so most of these writers will have some new work out for you to chase up if you like it!