State of the TAM - 9 Sept
BE NICE TO ME! and join me for an AMA on Friday
What's Up
I expect everyone to be very nice to me. I had to go to the dentist last Friday and it was extremely traumatic. Possibly for everyone concerned since I don't think the dentist expected me to cry and/or make weird dolphin noises.
OK, so it was just a filling. Nevertheless, I am extremely phobic about dentists AND needles so I was extremely brave to make it there at all. I have my reasons. I won't go into them here, partially because no one wants to read about dental trauma of a Monday morning but also because it allows me to segue smoothly into…
If you do want to know why I'm phobic about things….
Come back on 13 Oct to Ask Me Anything! Questions about my new book, my wrying, my phobias, my dogs (my own and god-pets), or the time I fell off a cliff? This is the place to come. I will answer most of them (nothing rude, nothing too spoilery, and don't be a jerk! Them's the only rules).
OK, so I've whined about the dentist. What else is going on?
The Dead Man Stalking blog tour is still on. So you should be following that! Find out about my new book, read a short story, and enter for a chance to win prizes. If you haven't kept up with it you can find all the links here, on my website.
I am also delighted to announce that I've got a Cover Reveal coming up! Check out my new contemporary romance novel Swipe by TA Moore on Boy Meets Boy on 21st Sept.
(Is the ribbon too much? I'm not sure.)
Anyhow that will be out THREE DAYS before I get on a plane to fly to San Diego. So I'll be in a faff. I have already sorted by clothes into huge piles, stared at them for a while, and then ordered some compression packing cubes from Amazon.
I'm a very anxious packer. Despite the fact I'm going to America, where I can buy basically everything I can in Northern Ireland (probably even including Tayto crisps if I go to the right shop!) I obsess over making sure I have everything I need with me.
In fairness, last year I forgot my brush and had to dry and style my hair with a comb. That was weird.
I will let you know how the compression cubes work out! They should arrive on Saturday.
Congrats to Cassandra Darens! I'll email you today about your cameo :D. Anyone who didn't get lucky THIS time, check out the next competition below!
That's right! The winner of this competition will get a dramatic reading from me in my culchiest accent (which is my normal one) of a passage of their choice (about a page or less) from almost anything - my book, someone else's book, a classic, a car manual. Nothing that's rude or offensive (no slurs, no politics, no sex, and no praise for Boris Johnson).
---
It's all in the eyes!
---
Book Rec of the Week
I do love a good 'contemporary teenager gets pulled into a messed up fantasy world' book. I blame the Irish in me. So this book by Mason Thomas hits allllll the right notes for me. So go check it out!
The Witchstone Amulet by Mason Thomas
Protect it at all costs.
That's what rugby player Hunter Best's mother told him before she died. But when Hunter surprises an intruder in his Chicago apartment, he discovers her amulet stolen. Hunter pursues the thief—all the way through a strange vortex. He wakes in a bizarre and violent world, a benighted realm on the threshold of civil war.

The queen has become a ruthless tyrant, punishing any who oppose her, weakening the kingdom's defenses against the brutal Henerans. To survive, Hunter must depend on the man who robbed him, a handsome former spy named Dax, now a leader of the resistance that believes the queen is an imposter—a Heneran disguised by magic… who also looks identical to Hunter's mother.

There's no love lost between Hunter and Dax, and even if Hunter grudgingly agrees with the resistance, he just wants to reclaim his property and go home. But he might be the only one who can oppose the queen and end her reign of terror.

Cover Artist: Tiferet Design
---
Left Turn to Albuqueque Road Trip
In case you are thinking 'this song isn't so bad', you have to imagine a slightly tone-deaf Irish woman singing whole-heartedly along.
I can wait.
Yeah, that's the ticket.
---
Where is the lie?
season two of MINDHUNTER was great but there was not enough Anna Torv bowling and I demand to speak to the manager
---
Deal of the Week
Today is the last day to order your books for GRL and to take advantage of the sale!
---
I love this.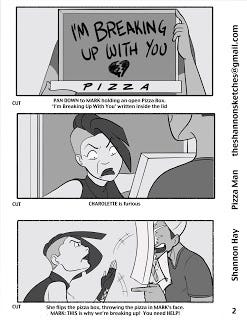 ---
Must Read of the Week
I have made Sweet and Sour chicken with diet coke before, so I can't say I wouldn't TRY this. Most things I will try, as long as it isn't actually looking at me during the process.
Mostly I am sharing this to prove to Rhys Ford that there's worse things I can do than put ketchup on eggs.
I'll just say it: this one sounded friggin' gross. I blanched when I read an idea for slow-cooking chicken in orange soda and soy sauce. But as a citizen of this great nation, one inspired to invent flavors called Cool Ranch and Flamin' Hot, I took this as a challenge to make a recipe work—and, well, color me surprised and delighted by the result.
---
Again with the vultures? I hear your questions, but I love vultures. People who handle them have told me that they are much more intelligent than birds of prey like hawks and (despite their reputation!) owls. They're closer to a dog in how they interact with their handlers (and, you know, closER. I don't think they're going to fetch a stick.)
gogreen.planet
---
Useless Site of the Week
---
I have just been made aware that MANY OF MY FRIENDS have not watched Derry Girls and this is something I cannot allow to stand. Seriously.
---
Poetry of the Week