State of the TAM - July 1
I can see clearly now, the rain is gone
What's Up
Actually, I can see clearly now that I finally have my new glasses (it is NI, it is still raining).
If you are new here, welcome to my inability to take a selfie that DOESN'T look like I am either stalking or being stalked by someone. You can also see my eye scar a bit, which doesn't usually show up that much in pics (the brown spot on my eye, from an operation when I was a wee baby to save my sight! Very dramatic! Still kinda true because you don't really operate on wee babies for anything other this 'this is pretty important').
In other news the Cover Reveal for Dead Man Stalking by TA Moore went swimmingly last Thursday. The cover is now up, Kanaxa did an AMAZING job on it so I am absolutely thrilled, and you can pre-order now!
I should also have some copies for GRL which will be cool!
Agent Luke Bennett proved that humans could rise just as high in the ranks as their vampire colleagues—until a kidnapper held him captive for a year and turned him without his consent.

Now he's Took: a reluctant monster afraid to bite anyone, broke, and about to be discharged from his elite BITERs unit.

When an old colleague suggests he consult on a BITERs case, Took has little to lose. The case is open and shut… but nothing is ever that easy. As he digs deeper, he discovers a lot more than one cold case is at stake, and if he wants to solve this one, he'll need the help of the BITERs team. Even if that brings his old commander, Madoc, back into his life.


Cover Artist: Kanaxa
---
Useless Site of the Week
This cracked me up more than is probably reasonable!
---
Book Rec of the Week
I feel like all I need to say this week is Andrew Grey. The man's written over 100 romance novels, people! He knows his way around a HEA. He's also a great guy who always takes time to make other authors, especially newbie authors like I was when we first met, feel welcome and involved.
So check out his upcoming book.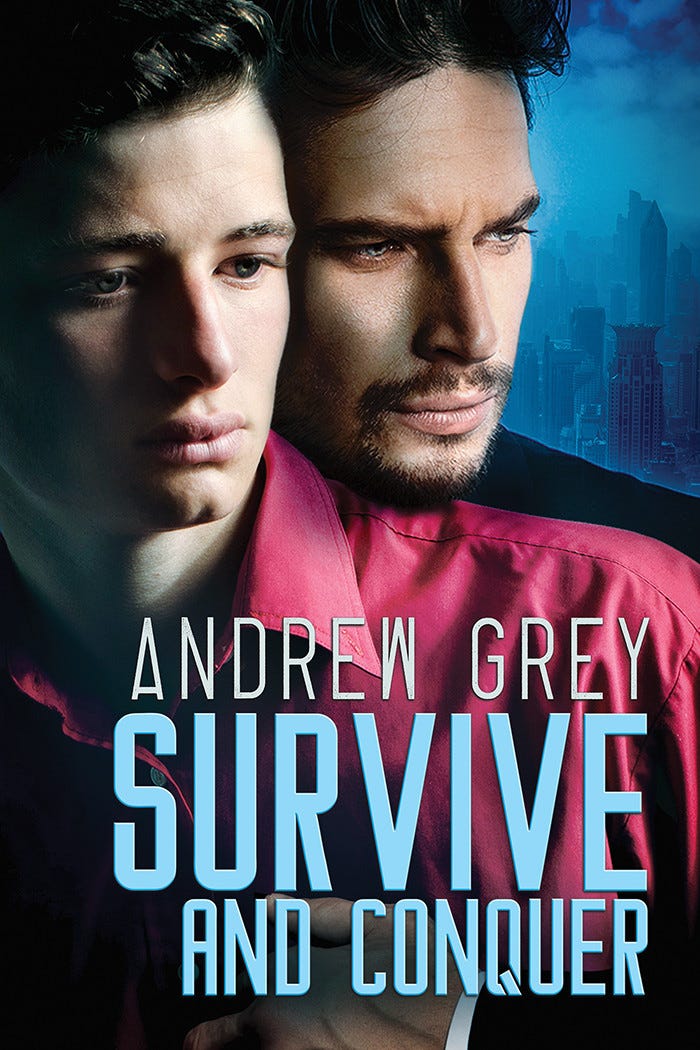 Newton DeSantis was on the ground when the towers collapsed on 9/11. Though he still carries the scars on his body and his heart, he's determined to ease some of the world's suffering. Now a social worker and father to two children with special needs, he's doing his best. But when his son's health takes a drastic turn, Newton knows he can't do it alone.

Family law attorney Chase Matthews is a rising star, and he's in high demand. Still, Newton is very persuasive, and Chase takes his case pro bono. Everything about the other man appeals to Chase, but he's determined to keep the relationship professional—even though, after meeting Newton's kids, he wants to be a part of their lives.

Chase's job doesn't always allow him to pick his clients, though, and a case that could make him partner will put him on the opposite side of the courtroom from Newton—along with everything he believes in and the future they could build together.


Cover Artist: Kanaxa
---
Article of the Week
The first time I used AirBnB was on my mum's birthday. I took her down to County Clare for a long weekend and I booked this awesome little cottage out in the country. Way, way out in the country. I mean, it didn't have an address. It had an approximate location and then directions. I should have picked up the warning signs then.
Still it was cute! I mean, it was a bit cold because a unexpectedly nice February is still February, but doable! And I mean, there was no locks on the doors of the little 'granny flat' we'd rented, which wasn't ideal. Oh and there were slaters in the shower which I had to aggressively positive-side through. So I asked the owner to just turn the heating on in the morning because there was no hot water. Ten minutes he texted me that the apartment wasn't for me, asked me to leave the key under the floor pot, and kicked me out.
It's kind of a running joke now. 'Not for yoooooooooou, TA Moore!'
So weird. I mean it was fine, I drove up to the Cliffs of Moher and we found a great hotel nearly right on the cliffs that did an awesome Irish Fry for brekkie…with gluten free bread and sausages!
Still, that wee cottage better than these AirBnBs though.
A May visit from a New York City Department of Buildings inspector revealed the building had been illegally converted into 12 rooms, four squeezed onto each floor, equipped with a total of 24 beds for nightly rental, according to a summons filed by the inspector. On Airbnb, the shoddily assembled living spaces were described with appealing titles like "Newly Renovated Apt Next to East River, NYC View!" ($195 per night); or "Clean and Comfy Room With Balcony, 15min to NYC!" ($100 per night). However, in reviews some guests described them as "packed with garbage," "broken furniture," and plagued by ants, centipedes, and black mold.
---
Random Stuff I Think is Cool
Ever wondered what it would be like if brand mascots were characters in an anime? Don't lie, I know you have. I've read those fanfics about the insurance company mascots…ok, that says more about me. Never the less, check out Silvi Illustrations for some great (occasionally—randomly?—dark) interpretations.
---
Read this! This is amazing!
I have a story for you all. Grab a brew, get comfy and I'll begin. Our tale starts in a northern railway town in 1971 and it looks like a regular story. A 14yo girl called Jacqueline falls in love with a 17yo boy called John, who was from the "wrong part of town." Read: Poor.
---
The Demented Dollhouses of Marc Giai-Miniet
These dollhouses are stunning, oddly elegant, and wildly cool. They obviously aren't meant for play for part of me would still love to just crouch in front of it and play pretend with some very unlucky dolls. Of course, I am a bit of an oddball.
It kind of reminds of Marianne Dreams by Catherine Storr, a wonderful book that might have been as a subtly disturbing as I found it as a child. I really do love the book, but there's something about the power that Marianne had that always creeped me out.
Anyhow, I digress, check out these amazing, ramshackle, dreamscape libraries.
---
Sloths!
---
Dead Good Reader Awards
Congratulations to the authors who made the shortlist! The Theakston Old Peculiar Crime Writing Festival is awesome too. I really mean to go some year, they have the most amazing authors. I can fangirl with the best of them!
---
This messes me up! Technically there's no danger there, but the perspective still makes my stomach churn with that uncomfortable fear of a fall.
---
Bees, Sausage Dogs, and the Future
He's a dog! In a beekeeper suit! Sniffing out diseases in the hives to save the honeybees. This is the LEAST PROBLEMATIC thing on the internet at this moment in time.
---
OK, I'm not cut out to be a superstar's assistant. This isn't a surprise, but it stings a little to have it confirmed. I barely got past breakfast!
---
Poem of the Week
Check out Panning for Poems Issue 1, a microjournal for micropoetry from Poetry NI.