(This was meant to go last night, but my internet went down.)
What's Up?
The final book in the Wolf Winter trilogy will be coming soon! Wolf at the Door will be out on October 27! Danny, Nick, and the wolf prince twins head back to Scotland, to the Scottish Pack, but the Prophets aren't out of moves yet.
This is a weird one. I'm excited to have finished the trilogy, but at the same time I'm a bit sad to see them go. I can always return to the world - there's a whole lot of it ending, not just the little corner of the United Kingdom - but not these guys.
I hope you like where I set them down!
Pre-orders aren't up yet, but I'll let you know when they are. Ditto when the Cover Reveal and Blog Tour are scheduled.
---
Weekly Pupdate!
This dog has NO toys left! Well, no stuffed toys. He is determined to just murder them all. He has loads of balls of various sizes and noises, but anything with stuffing in it just meets a bad end.
Hopefully he'll grow out of it! I'll try again at Xmas. He has to have something to unwrap under the tree!!
---
---
Recommendation of the Week
I like Aleksandr* - we have a LOT of political views in common, and a shared despite for Brexit - but even if he was my mortal nemesis I might still need to get this book. The premise is right up MANY of my streets. Everything from dystopian UK setting to corporate interests run amok and gladiatorial matches to 'bread and circus' a crumbling society. Seriously, it hits a lot of buttons. But check it out! And wish him well! It's release day!
*I don't know him well! We've chatted at events, but I think he's nice. Smart as a whip, and not just because we agree about politics.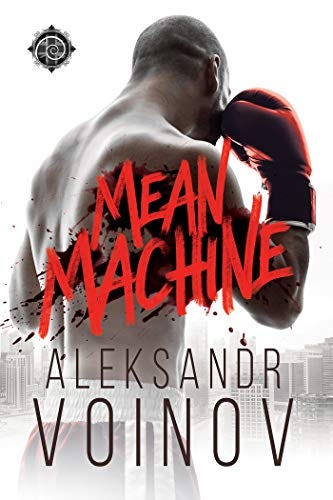 For a boxer ravaged by guilt and in deep denial of his desires, a fight beyond the ring might yield his greatest prize.

In a dystopian UK devastated by austerity and ruled by corporate interests, Brooklyn Marshall was a happily married London police officer—until an accident resulted in the death of a protester connected to a powerful family. Now he takes out his anger and pain on his opponents, fighting for the company that took him into stewardship after his conviction and disgrace—and which all but owns him.

Wealthy barrister Nathaniel Bishop fulfills his dream of a family when he adopts a daughter. He can't resist researching her allegedly violent criminal father, but Brook isn't at all what he expects. He's fascinating… and maybe worthy of redemption. Through legal sleight of hand, Nathaniel thinks he can overturn Brook's conviction.

Brook has learned the hard way not to trust anyone, let alone a privileged man who's purchased his "time." But as they get to know each other, he allows himself to hope.

With his fights getting deadlier, hope might be the only thing to carry Brook through.
---
Sound up! You have to listen to this!
---
Deal of the Week
Get the ebook of Stealing his Heart by Bru Baker for $2.49. Deal expires 11:59 PM ET July 22, 2020. I love this series. Paranormal Romances aren't always taken seriously, but Bru crafts a solid, integrated world that clicks together from top to bottom and tells compelling, sweet stories in a consistent, empathic voice that delivers on both action and heart-wrenching honesty.
Danny's parents raised him to believe his wolf was a curse. He's part of the wealthy and powerful Connoll Pack, but only nominally. He abandoned that world to volunteer with supernatural kids, and he isn't looking for a mate….

Max is a shifter who is also a detective. He's working a case that could make or break his career. Danny's caught up in the case he's on, and he's also irresistible. They're a bad match—Max, an Alpha having trouble with his new powers and Danny, who trusts Alphas as far as he could throw one. But they can't get enough of each other, and they might bond before they even see it coming.

They could be amazing together, but they have to get past a few obstacles—especially since someone close to Danny might be involved in the thefts Max is investigating.
---
Oh, and while you're there…
---
I used to be VERY COMMITTED to this game and the associated book Jennifer Government by Max Barry. I think Aleksander's book brought it to mind again. The two novels touch on a few similar themes, albeit in very distinct ways.
---
Must Read of the Week
This is fascinating!
There's always a weird…moment…when you read about the lego blocks of humanity. I'm a pretty prosaic person. Yet…there's still a dissonance when you see the structures of the body, the way people are put together. We are what we think with, these sparkling thoughts and ideas and emotions about things. Yet at the same time we're just meat and bones and genes.
I feel the same about surgery shows. Plastic Surgery is undignified, but it only touches the surface, but anything about trauma surgery causes the same…wow, we're just engines of meat.
It's fascinating.
If you're a housefly, life comes at you fast: Within days of being born, you mature, hatch your babies and die having served your evolutionary purpose. But we humans tend to take as many as 100 years to undergo the same process. A 2018 study featured on the cover of Molecular Biology Evolution provides some insight into why humans are able to live as long as we do. Researchers identified a handful of genes that were so strongly conserved millions of years ago, they influence our lifespans even today.

Lead study author Arcadi Navarro, Ph.D., a research professor at Pompeu Fabra University's Institute of Evolutionary Biology tells Inverse that much like physical traits, our lifespans evolved in response to our environment.