Last week I was on Sliabh Liag, the highest accessible cliffs in Europe. It's slightly less well known than the Cliffs of Moher, but is still completely stunning. You can get a lobster roll there if you want, most days, but he drove out just as I arrived!
DENIED!
I mean, I'd neither expected nor wanted a lobster roll until that moment. Once I knew I couldn't have it though? All I wanted.
If you are heading to Sliabh Liag at any point, take the coast road from Killybegs around (follow the signs for the Wild Atlantic Way). The drive is stunning on its own.
However, you aren't here for advice on places to go in Ireland!
In addition to a brief wander around Ireland, I've also been working on Wolf Winter 3 and editing Swipe. This is technically a contemporary stand alone, but it might make a few of you go 'ohhh!' when you see where it is. It's so odd though when the edits arrive though. I am a book and 3/4 away from Swipe at this point. My brain has had two entire other sets of very different characters come to visit. So it's strange to find my way back into the 'voice' of Swipe.
It's good in some ways—you sorta see things you wrote that were actually good—and in others not so much since you pick out all your mistakes. Mostly gerunds. I can be a gerunding machine when I get on a roll!
First edit is done, though, and sent back to Liz. The plan is to put the final touches on Wolf Winter 3 by this Saturday, although I have an asthma clinic and an Arts Funding info session to go to this week so I might need to ignore that!
Finally, just in case you were here for places to go in Ireland: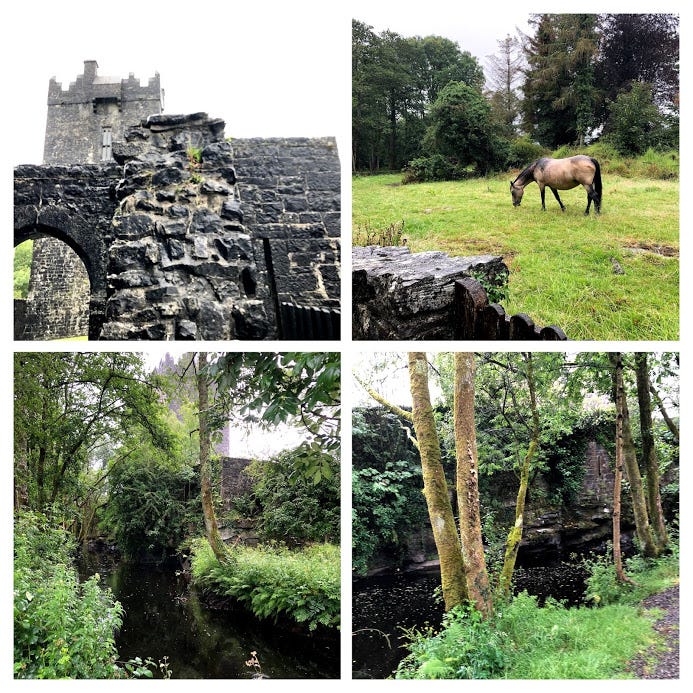 Oughterard in Galway is a lovely wee town and is pretty close to anything you want to do in Galway or in and around Connemara. They also have their own castle and a wonderful little pub/restaurant, the Powers Thatched Pub and Restaurant, that I would fully recommend for a good breakfast.
Also #teamketchup!
---
Book Rec of the Week
Well, book series rec of the week! Jordan L. Hawk (I eternally want to add an e for some godforsaken reason, so look at that! No Hawke!) has just released the first book in the third Spectr series, Stalker of Shadows. You should check it out.
However, if you haven't read the Stalkr books before you can get the whole ebook first series on Amazon for only $4.36. Which is a pretty good deal for six books!
Unregistered paranormal Caleb Jansen only wants a normal life. But when the vampire spirit Gray accidentally possesses him, Caleb finds himself in a countdown for his very existence.

Hotshot federal agent John Starkweather thinks he's seen it all. Then he's called to exorcise Caleb, and discovers a creature that isn't supposed to exist outside of stories. For Gray is a drakul: a vampire who drinks the blood of the demon-possessed.

If Gray can't be exorcised within 40 days, the possession will become permanent. In the meantime, the three must find a way to work together. As they hunt down demons and save the innocent, the heat between John and Caleb explodes into passion. But when divided loyalties threaten his last chance at exorcism, Caleb discovers love may come at a price higher than he'd ever imagined.
---
Personally I love short stories, and I'm really not very good at writing them. I get carried away with the words and the world, to the point where I feel a 30,000 word novella is restricting.
Still a lot of these shorts look interesting. Not all of them, but still worth a look.
Remember when Kristen Roupenian's 'Cat Person' went viral? It was a reminder of the power the form can wield, and a great advert for literature in an era dominated by other mediums.

Short stories, of course, have the added advantage of being short, meaning you can digest them in small chunks - the perfectly alternative to staring at your iPhone for an hour before bed.

Here we round up 15 classic and modern short story collections that should be on everyone's radar. It's not a definitive list, of course, but it's a great start for anyone who wants to read more fiction in 2019.
---
This is fascinating! I might have changed my bio recently, but I still fully believe that '…everything is cooler in space!'
Let's talk about peeing in space. Several people, in response to my NY Times essay, have said that women couldn't go into space because we lacked the technology for them to pee in space.
---
Article of the Week
I find things like this fascinating for the way that SF authors predicted how technology would be used in the future, and they ways that they didn't foresee or just got wrong. I was thinking about getting a Ring doorbell myself—mostly so I could check from upstairs who was at the door and if I needed to answer it or I could just remotely tell the Jehovah's Witness/Man selling Vegan Food Boxes that they were at the wrong door—so I've hit a lot of these.
Quite like how Amazon's killer Prime Day deals on Echo smart speakers have encouraged people to put more than 100 million artificially intelligent Alexa devices in their homes, the company's push to sell Ring devices could lead to a more widespread embrace of what I've referred to as fear-based social media.
---
---
---
Useless Site of the Week
Note: if you play around on this site for a while it will flash quite brightly and in various colours at you.
And all I can say about this site is huh. I mean, I've no idea what it is meant to be or why it was created. Nevertheless, I was intrigued enough to spend some time there.
---
---
Poetry of the Week
Abby Oliveira was one of the founding members of the Poetry Chicks, who were a HUGE influence on the Performance Poetry scene in Northern Ireland. Here you can see why!
---