State of the TAM - June 17
Freedom tastes like...coffee. Maybe I just drink a lot of coffee
What's Up?
Whoof! Blog tour over, Take the Edge Off released, and no new edit on my plate AS OF YET. Freedom tastes like having only one deadline on the horizon.
I'm working away on the third book in the Wolf Winter series. Which is weird because it is June and I am sitting in my office drinking coffee with snow storms on in the background for atmosphere.
Luckily (?) it's been a rubbish Summer so far. So the dissonance isn't too strong.
Age had already closed up the windows and boarded the doors of his life. Maybe it was time for him to turn off the lights and leave before winter - Wolf Winter, Book 3.
I am also getting new glasses. Finally! I've needed new glasses for about two years, then I was looking for new glasses for around six months. I am very short sighted, so I wear my glasses all the time. It is a big commitment to pick one thing that you will wear 24/7 for the next three years (average).
Still, apparently once I turn 65 my eyes won't change anymore so that's….something to look forward to?
Don't forget, June 27th I'll be at Joyfully Jay to unveil the cover of my next book, urban fantasy Dead Man Stalking, and enter a raffle!
---
Travel
I will be 'Leaving on a Jetplane' in September. I'll not be able to make the Workshop this year (boo! sulk!), but I'm going to GRL and the World Fantasy Con in Los Angeles during October.
That is three months away. Luckily all I have to do to get ready is…um, book flights, order some more swag, sort out what clothes to take, iron those clothes, change my mind about clothes…
On the other hand my costume for the GRL party is almost done and dusted. One thing I can mark off the to-do list!
That is pretty much my last big author travel of the year. Then in 2020 I'm going to go to ShiMMer in Birmingham (just as a reader this time around! So I can chill and hang-out) and then to the Salon du Livre in Paris (along with Andi Lee whose first book will be out then!). I'm hoping to get to UK Meet in Southampton too—although that is a lottery of hoping I get on the list and trying to work out the best way to get there! There are direct flight, but the company that runs them is going out of business soon/maybe so I'll have to see what happens with that. I have some time there though. UK Meet isn't until September 2020. So bit previous to worry about it.best
---
Random Stuff
This viral video of the gyrodrop is computer generated (the real ride is still too much for me from the looks of it, but much less scary) but it still looks amazing…and TERRIFYING.
---
Rec of the Week!
I've known Andi Lee for decades. She remembers less of it than I do, since she has an absolutely terrible memory! We went to Bath! We had cake!
That said she is a brilliant writer and her new contemporary romance Mischief Maker is available for pre-order on Dreamspinner Press now. You should definitely check it out. It's cute, quirky, heart-felt, and she's already hard at work on the sequel.
Mischief Maker by Andi Lee
An Animal Lark Novel

What to expect when your pet rat is expecting, or how to fall in love at a pet show.

Jamie Hewett rescues and breeds prize-winning fancy rats. While he's surrounded by supportive, animal-loving friends, his ex-boyfriend has never been one of them. One embarrassing breakup later, he definitely isn't looking for love again, but perhaps a rebound relationship might ease his broken heart.

Liam Donnelly's quirky dating life is the subject of a popular vlog, and his viewers have interesting ideas on where he might find romance. When they suggest he take Mabel, his new rat, to a pet show, he's up for the adventure.

Although they can't deny their growing interest in each other, neither Jamie nor Liam believes in love at first sight. They've both had bad luck with men, and Jamie isn't pleased that Liam makes a living as a serial dater. On top of that, others are conspiring to keep them apart, and Jamie is left holding the baby—or twenty-plus babies—when their fur children have no trouble making a connection. Will a YouTube ukulele serenade convince Liam that Jamie's love for him—and their unborn rat children—is for real?
---
The Exorcist is one of those odd movies that never really scared me as a kid, but itches at me more now. I think it is the idea of that slow, inexorable corruption that you can't escape, the erosion of it…
Or maybe it's just because of how much I loved The Exorcist TV series when it was on. So it might just be fond memories of Ben Daniels being bad ass in a priest's collar (I do love him! Jodie Whittaker is an excellent Doctor Who, but when I heard Ben Daniel's name was in the running I was torn.)
---
Oh, now this is some cool graffiti.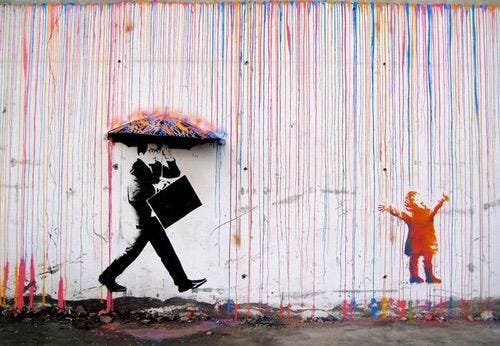 ---
What I'm Watching (NSFW due to swears)
Year of the Rabbit is my new obsession. I tried to convince friends to watch it with me by just yelling quotes at them, but that seemed to have the opposite effect. Who can understand the mind of man?
ANYHOW! You should watch it for Mabel, who's actually competent and going to be the world's first 'fopper' or…maybe 'lady filth'.
---
Poem of the Day
Moyra Donaldson engages with the grubbier side of Englightenment in Miracle Fruit as she explores the internal life and motivations of the people who lived on the margins of society.
---